First CAWa monitoring station in Uzbekistan installed
With the installation of the first CAWa monitoring station in Uzbekistan, the regional hydrometeorological monitoring network covers now three Central Asian states. The 7th station of the network was installed in early November 2012 jointly with the Ulugh Beg Astronomical Institute (UBAI) of the Uzbekistan Academy of Sciences on the territory of the Maidanak high-mountain Observatory.
The station is placed in the Kashka-Darya province south to Shakhrisabz city at an altitude of 2580 m.
Specialists from UBAI, the Central-Asian Institute of Applied Geosciences (CAIAG, Kyrgyzstan) and GFZ German Research Centre for Geosciences installed the CAWa station within five days despite rough weather conditions.
The Maidanak station provides meteorological observations and GPS data.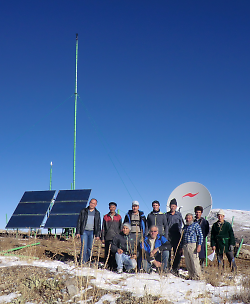 Station

Maidanak
Coordinates

38° 40´ 25'' N

66° 53´ 50'' E

Elevation
2580 m
River basin
Kashkadarya
Subcatchment
Langar river
Start of operation
06-Nov-2012
Sensors:
 
     GPS
+
     Air temperature
+
     Relative humidity
+
     Atmospheric pressure
+
     Rain gauge
+
     Snow pack analyzer
-
     Wind monitor
+
     Solar radiation
+
     Soil temperature
+
     Soil water content
+
     River discharge
-
     Seismometer
-
Submitted by Katy Unger-Shayesteh on