Specialists decide on the rehabilitation of Abramov station
In a workshop held at GFZ in Potsdam on March 7 and 8, 2011, specialists from CAIAG, UzHydromet, NIGMI, the Institute of Water Problems of the Academy of Sciences of the Republic of Tajikistan, and the World Glacier Monitoring Service discussed the re-installation of a hydrometeorological monitoring station at Abramov glacier in Southern Kyrgyzstan (photo by courtesy of Jury Tarasov).
The Abramov glacier is located in the Alai range in Southern Kyrgyzstan. Between 1967 and 1999, a glacier observatory had been operated at Abramov glacier by the Central Asian Research Institute for Hydrometeorology (SANIGMI) in Tashkent. Researchers from all Central Asian countries and from beyond the region worked at the observatory and published their data and scientific results in a few hundred publications.
Unfortunately, the observatory and all installed monitoring equipment were destroyed in 1999 by a local guerilla group.
The previous research works at the Abramov glacier offer a unique data basis for the assessment of changes in the cryosphere as well as climate change in Central Asia. The re-installation of hydrometeorological monitoring equipment would allow resuming the historic time-series and provide important information on recent changes in Central Asia.
In addition, operational data from the re-installed monitoring station would be useful for weather forecasting, run-off forecasting in both Amudarya and Syrdarya river basins, and natural disaster monitoring services.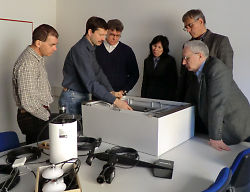 The workshop participants highlighted the importance of resuming the observations at Abramov glacier. They decided to head for a re-installation of hydrometeorological monitoring equipment at the site in the frame of the CAWa project. Several potential station locations were discussed and a new station concept was developed.
The monitoring station is planned to be installed in cooperation between the research institutions from Kyrgyzstan, Tajikistan, Uzbekistan, and Germany and the World Glacier Monitoring Service.
The workshop was funded by the German Federal Foreign Office and the German Federal Ministry for Education and Research.
Submitted by Katy Unger-Shayesteh on