Monitoring station at Golubin Glacier installed
In the end of July 2013, an international team of researchers from Kyrgyzstan, Germany and Switzerland installed a hydrometeorological monitoring station near the Golubin Glacier in the Ala-Archa National Park (Kyrgyzstan). This is the 9th station installed in the frame of the CAWa project in Central Asia.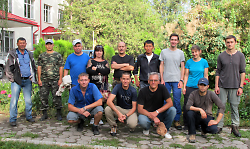 The new automated monitoring station is located at an altitude of 3,315 m a.s.l., at around 1 km linear distance from the location of the former Soviet research station, which had been operated manually until the year 1993.
The new automated monitoring station was put into operation on 27 September 2013 and measures the following parameters:
Detailed sensor setup:
Station
Maidantal
Coordinates

42° 28' 56.68" N

74° 29' 01.27" E

Elevation
3315 m
River basin
Chu
Subcatchment
Ala-Archa river
Start of operation
27.09.2013
Sensors:
 
   GPS
+
   Air temperature
+
   Relative humidity
+
   Atmospheric pressure
+
   Rain gauge
+
   Wind monitor
+
   4-component radiation
+
   Soil temperature
+
   Soil water content
+
   Snow pack analyzer
+
   River discharge
-
   Seismometer
-
Snow-line monitoring using terrestrial photography
In addition to the standard hydrometeorological sensors, specialists of Fribourg University installed two camera systems to monitor the snow line on the Golubin Glacier, which gives valuable information for the estimation of annual glacier mass balance. Similar systems have been installed in 2011 and 2012 at the Abramov Glacier in the Alai range and at Inylchek Glacier in Central Tian Shan.
The station installation at Golubin station was funded by the German Federal Foreign Office in the frame of the CAWa project. We acknowledge the co-funding by the Swiss Agency for Development and Cooperation in the frame of the CATCOS project for travels and the camera system. The "Global Change Observatory Central Asia" of GFZ provided additional funds for the station equipment.
Submitted by Katy Unger-Shayesteh on