Second CAWa monitoring station in Uzbekistan installed
The regional hydrometeorological monitoring network of the CAWa project has been further extended with the installation of the Maidantal station in the Pskem river basin in Uzbekistan. The station was installed in September 2014 in joint efforts by the Uzbek Hydrometeorological service, the UNDP "Climate Risk Management in Uzbekistan" programme, GFZ and CAIAG. It is operated by UzHydromet.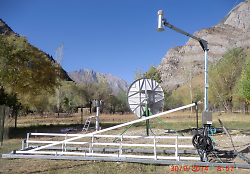 The multi-parameter station measuring meteorological, snow and discharge parameters is located at the confluence of the Maidantal and Oygaing rivers at an elevation of 1485 m a.s.l. and was installed by specialists from UzHydromet, the Central-Asian Institute of Applied Geosciences (CAIAG, Kyrgyzstan) and GFZ German Research Centre for Geosciences.
Detailed sensor setup:
Station
Maidantal
Coordinates

41° 59' 47" N

70° 38' 18" E

Elevation
1483 m
River basin
Pskem
Subcatchment
Maidantal river
Start of operation
29.09.2014
Sensors:
 
   GPS
+
   Air temperature
+
   Relative humidity
+
   Atmospheric pressure
+
   Rain gauge
+
   Wind monitor
+
   4-component radiation
+
   Soil temperature
+
   Soil water content
+
   Snow pack analyzer
+
   River discharge
+
   Seismometer
-
Submitted by Katy Unger-Shayesteh on