Two monitoring stations started operation in Tajikistan
Two permanent hydrometeorological monitoring stations have been installed in Tajikistan in the end of May / early June, 2012. The stations Dupuli and Ayvadzh are located in the western and southern most reaches of Tajikstan, near the borders to Uzbekistan, and Afghanistan, respectively. A team of scientists and technicians from Tajik Hydromet, CAIAG, and GFZ installed the stations and put them into operation.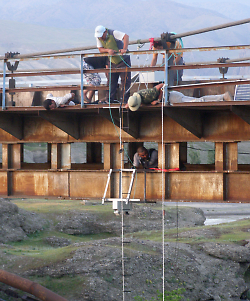 With the first installations in Tajikistan, the regional hydrometeorological monitoring network being established in the frame of the CAWa project covers now the two countries in the headwaters of the Amudarya and Syrdarya rivers.
The monitoring station Dupuli is a combined meteo and discharge station at the upper Zerafshan river, about 20 km east of Pendzhikent.
The station Ayvadzh is located in the southern part of the country where usually the highest temperatures are recorded throughout the year, about 5 km north to where the Kofirnikhan river flows into Amudarya. The station was established next to the classical, manually operated monitoring station offering the opportunity for cross-validating the AWS data with the classical observations.
Station

Dupuli

Ayvadzh

Coordinates

39° 29´ 07'' N

67° 48´ 09'' E

36° 58´ 07'' N

68° 01´ 25'' E

Elevation

1060 m

320 m

River basin

Zerafshan

Amudarya

Subcatchment

Upper Zerafshan

Kofirnikhan

Start of operation

28-May-2012

04-June-2012

Sensors:

 

 

   GPS

+

+

   Air temperature

+

+

   Relative humidity

+

+

   Atmospheric pressure

+

+

   Rain gauge

+

+

   Snow pack analyzer

-

-

   Wind monitor

+

+

   Solar radiation

+

+

   Soil temperature

+

+

   Soil water content

+

+

   River discharge

+

-

   Seismometer

-

-
Submitted by Katy Unger-Shayesteh on